Other information
This page contains information about previously undertaken activity related to the FIFA Women's World Cup 2023™, including the first ever Play-Off Tournament and the Draw.
On this page
Play-Off Tournament
Kirikiriroa/Hamilton's Waikato Stadium and Tāmaki Makaurau/Auckland's North Harbour Stadium hosted the first ever FIFA Women's World Cup Play-Off Tournament from 17 to 23 February 2023.
The Play-Off Tournament was an exciting new competition introduced by FIFA that saw 10 teams compete for the final three qualifying spots for the FIFA Women's World Cup 2023™.
The teams involved in the Play-Off Tournament were Cameroon, Chile, Chinese Taipei, Haiti, Panama, Papua New Guinea, Paraguay, Portugal, Senegal and Thailand.
The final three teams to qualify for the FIFA Women's World Cup 2023™ were Haiti, Panama and Portugal.
An independent report quantified the high-level tourism and expenditure outcomes for Aotearoa New Zealand, Hamilton and Auckland of hosting the Play-Off Tournament. It found that:
Hosting the Play-Off tournament attracted 677 international visitors to New Zealand and 3,709 domestic visitors. Those visitors generated 11,317 international visitor nights in New Zealand at an average of 16.7 nights per visitor.
Play-Off Tournament-related expenditure in New Zealand (by FIFA and international visitors) is estimated at $12.96 million.
The Play-Off Tournament will be included in an overarching post-event evaluation of the national and regional costs and benefits of co-hosting the FIFA Women's World Cup 2023™.
The Draw
Tāmaki Makaurau/Auckland hosted the Draw for the FIFA Women's World Cup 2023™ at the Aotea Centre on 22 October 2022.
The Draw is a significant event in the international football calendar, and it revealed the match fixtures for the 32 teams competing in the FIFA Women's World Cup 2023™ and which host-country they will be based in for their group-stage matches. It was a global broadcast event that included cultural performances and it promoted the four Aotearoa New Zealand and five Australian host cities that welcomed teams and fans during the tournament.
A pōwhiri was held at Karanga Plaza in Tāmaki Makaurau to officially welcome the FIFA Women's World Cup 2023™ to Aotearoa New Zealand ahead of the Draw. At the pōwhiri, representatives from FIFA and the 39 qualified teams for the tournament and Play-Off Tournament were welcomed by local iwi Ngāti Whātua Ōrākei.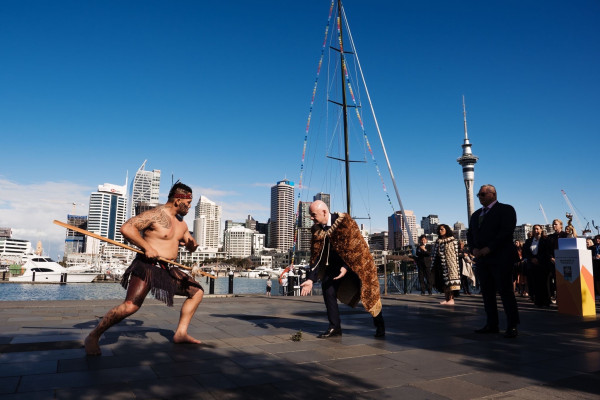 Find out more about the Draw: Māori welcome greets FIFA Women's World Cup – FIFA website(external link)
FIFA Women's World Cup 2023 Draw made in Auckland – FIFA website(external link)
New Zealand to host FIFA Women's World Cup 2023™ Draw – MBIE website(external link)